Services for Grades 1-12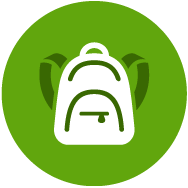 When a student begins work at Laughlin Children's Center, an academic evaluation is completed to determine the current level of skill development, as well as specific strengths and weaknesses, in order to address classroom performance and develop an instructional plan with specific goals and targets. The student then begins weekly one-to-one instruction with the same Pennsylvania Department of Education-certified tutor, providing the continuity necessary to develop a trusting student-teacher relationship.
For students struggling with organization, test-taking, and time management, our Study Skills program is a good fit. Laughlin also offers special programs dealing specifically with reading issues, such as fluency, comprehension, and hesitancy. For students with dyslexia, we have teachers certified in the Orton-Gillingham approach to reading, which offers a systematic, multisensory method that aids in the development of critical reading skills.
Screenings are available at the Center by appointment. For more information about scheduling a screening, or to inquire about having the Center come to your preschool, please call us 412-741-4087.