The mission of Laughlin Children's Center is to empower children with the skills they need to be successful in life.
How We Fulfill That Mission
Our mission expresses itself through clinical and academic services provided to children ages two through eighteen.
Our academic services include Dyslexia and academic tutoring and a preschool program. Our clinical services include speech, occupational and psychological therapy.
We provide screenings to determine a child's needs and then develop a plan for further evaluation.
We provide over 10,000 appointments annually to nearly 2,100 children throughout Western Pennsylvania.
As a nonprofit, we can keep our fees affordable; we accept most major insurances, and we offer a generous financial aid program for those families who qualify.
Laughlin Children's Center Today
Our services include:
Academic evaluation and instruction (one-on-one and small group) for children from preschool through high school.
Dyslexia tutoring.
Psychological testing and therapy (individual and family).
Speech-language therapy.
Occupational therapy.
National Association for the Education of Young Children (NAEYC) accredited The Village Preschool.
We also provide On The Spot screenings and evaluations.
Our History
Founded in 1956, Laughlin Children's Center continues to provide clinical and educational support services to children from preschool through high school.
Laughlin Children's Center is the successor to the Sewickley Fresh Air Home which was founded in 1897 by Mary and Alexander Laughlin
After Mary's passing in 1953, the Sewickley Fresh Air Home merged with the Child Counseling Center of Sewickley to form the Mary & Alexander Laughlin Children's Center.

The Laughlin family is still involved with Laughlin Children's Center to this day.

Laughlin family member Alexander, David, and Mary are currently active contributors to our mission and board.
Our Accreditations
Academic Services
National Association for the Education of Young Children (NAEYC)
International Dyslexia Association
Pittsburgh Branch of International Dyslexia Association
Private Academic license from the PA Department of Education for the preschool and tutoring.
Occupational Therapy
American Occupational Therapy Association
Pennsylvania Occupational Therapy Association
Speech Services
American Speech Language Hearing Association
Pennsylvania Speech Language Hearing Association
Psychology Services
Pennsylvania Psychological Association
Parent Child Interaction Therapy International
National Board of Certified Counselors
American Psychological Association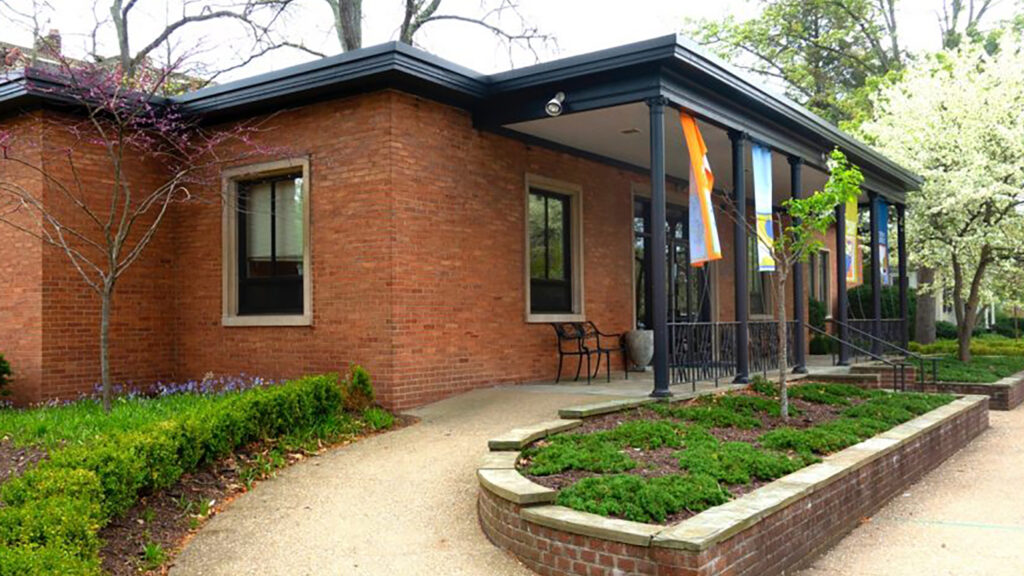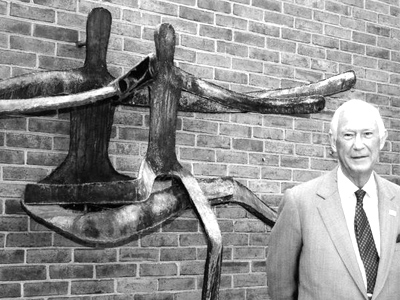 The Flying Lesson
Capturing The Lifelong Interaction Between Parent And Child
"The Flying Lesson," by Mary Callery, was dedicated on November 5, 1957, and its appearance proved to be a surprise to many:
An interesting sidelight on the statue was that many directors—in anticipation of its arrival—visualized something like a little fat cherub, perhaps with water spouting out of his mouth. When the bronze did arrive, abstract, austere, and perfectly stunning in its own way, it came as a shock. While it lay on its side in the courtyard waiting to be installed on the wall, children and adults asked why the junk pile was out there. After installation, the question was never asked again, because it clearly conveyed its message of the need of the child to separate from the mother, yet the wish to hold on.
–Excerpt from The Mary and Alexander Laughlin Children's Center: A Retrospective 1902-1979
The statue depicts a parent–ageless, of indeterminate gender–in that moment between holding on to and letting go of a child, an act that repeats itself over and over again, during life. Mary Callery, the artist, captures this bittersweet, but ultimately life-affirming, act perfectly. The sculpture has become a touchstone for everything that Laughlin Children's Center embodies.