Sparking your children's passion for lifelong learning.
Founded in 1956, Laughlin Children's Center has a long tradition of offering multidisciplinary educational support services to children from preschool through high school.
Laughlin's work centers on academic services such as traditional tutoring and Orton-Gillingham services for students with dyslexia; psychology services such as counseling and evaluation; occupational therapy; and speech services such as screenings and therapy. Although they focus on different outcomes, these services work together comprehensively, providing support to the whole child.
Our Mission
Laughlin Children's Center's mission is to act as a bridge to successful learning.
We are a community nonprofit resource providing academic support, speech and language therapy, occupational therapy, psychological services, and preschool education. We value the whole child, a personal approach with our families, parental involvement, professionalism, diversity, and accessibility to all.
Our clinicians are certified in their areas of expertise: education, psychology, counseling, speech pathology, occupational therapy, reading, and early childhood development, to name a few. They thoroughly assess each child and create an individualized plan based on that child's unique needs and strengths. Everyone at Laughlin Children's Center is dedicated to creating confident learners who will be productive and happy students.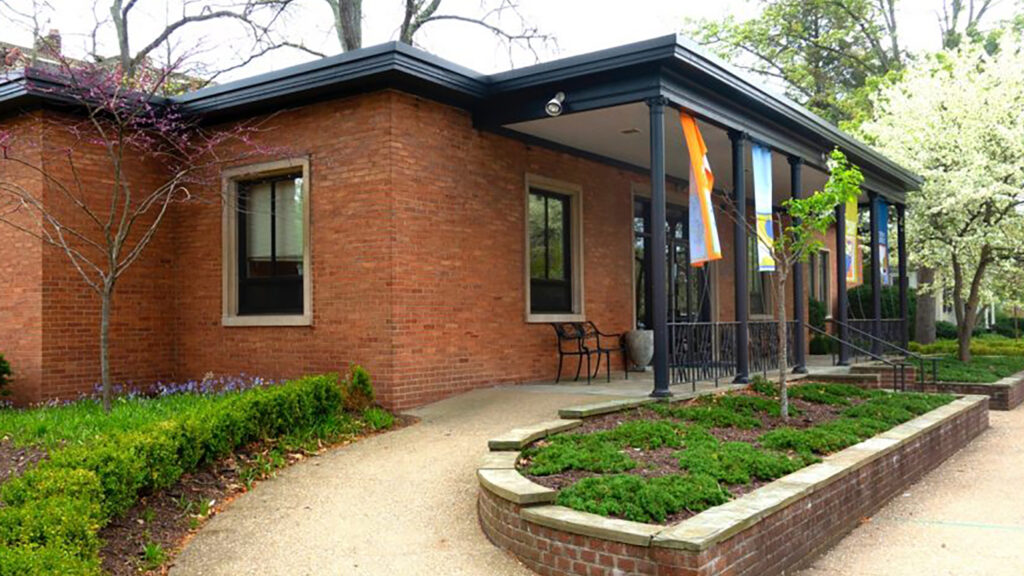 History
The Mary and Alexander Laughlin Children's Center, or "Laughlin Children's Center" as it is known today, was founded in 1956, as the successor to two children's service organizations – – Sewickley Fresh Air Home and Child Counseling Center of Sewickley Valley.
From its founding in 1897 until its closure in 1952, the Sewickley Fresh Air Home provided summertime and eventually year-round care for as many as thirty to forty children at a time. Mrs. Alexander Laughlin was the home's founder, president of its board of managers, and a driving force in the success of its program. When she died in 1953, leaving a sizable bequest to the recently closed home, the trustees and surviving board members sought another organization providing service to children to be recipient of the gift.
In early 1951, the Child Counseling Center of Sewickley Valley was organized to provide counseling services for individual children and their families and to conduct community awareness and education activities. There was significant community need for the agency's services, but it lacked a long-term funding source. The two child service organizations had in common several active patrons and board members and, through those connections, it was arranged that the organizations would be merged into one, and the surviving organization would receive Mrs. Laughlin's bequest.
In 1956, the Fresh Air Home's original charter was amended to provide for its name to change to the "Mary and Alexander Laughlin Children's Center." LCC began providing services during that year, even before construction of its facility in Sewickley was completed. The Center's earliest programs were described as "academic and emotional support for children who encounter problems in learning processes", a description which still applies to our programs today.
The Center Today
Today's array of services include academic evaluation and instruction (one-on-one and small group) for children from preschool through high school; dyslexia tutoring; psychological testing and therapy (individual and family); speech-language and occupational therapy, screenings and evaluations; and the nationally-accredited Village Preschool.
Laughlin Children's Center is proud of our continued relationship with the Laughlin family. Alexander M. Laughlin, Mary and Alexander Laughlin's grandson, has served as a board member since 1957, and actively supports our work in many ways. His son, David W. Laughlin, is continuing the family tradition of service and support as a board member, as did his elder son, Alexander M. Laughlin, Jr., until his untimely death in 2016.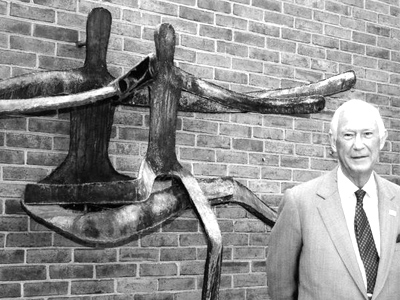 The Flying Lesson
Capturing The Lifelong Interaction Between Parent And Child
"The Flying Lesson," by Mary Callery, was dedicated on November 5, 1957, and its appearance proved to be a surprise to many:
An interesting sidelight on the statue was that many directors—in anticipation of its arrival—visualized something like a little fat cherub, perhaps with water spouting out of his mouth. When the bronze did arrive, abstract, austere, and perfectly stunning in its own way, it came as a shock. While it lay on its side in the courtyard waiting to be installed on the wall, children and adults asked why the junk pile was out there. After installation, the question was never asked again, because it clearly conveyed its message of the need of the child to separate from the mother, yet the wish to hold on.
–Excerpt from The Mary and Alexander Laughlin Children's Center: A Retrospective 1902-1979
The statue depicts a parent–ageless, of indeterminate gender–in that moment between holding on to and letting go of a child, an act that repeats itself over and over again, during life. Mary Callery, the artist, captures this bittersweet, but ultimately life-affirming, act perfectly. The sculpture has become a touchstone for everything that Laughlin Children's Center embodies.